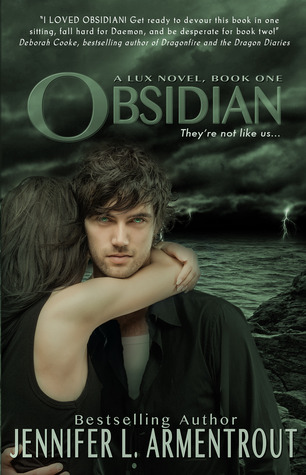 Rate:
About Obsidian:
Starting over sucks.
When we moved to West Virginia right before my senior year, I'd pretty much resigned myself to thick accents, dodgy internet access, and a whole lot of boring... until I spotted my hot neighbor, with his looming height and eerie green eyes. Things were looking up.
And then he opened his mouth.
Daemon is infuriating. Arrogant. Stab-worthy. We do not get along. At all. But when a stranger attacks me and Daemon literally freezes time with a wave of his hand, well, something... unexpected happens.
The hot alien living next door marks me.
You heard me. Alien. Turns out Daemon and his sister have a galaxy of enemies wanting to steal their abilities, and Daemon's touch has me lit up like the Vegas Strip. The only way I'm getting out of this alive is by sticking close to Daemon until my alien mojo fades.
If I don't kill him first, that is.
Review:
This series, Lux, is by far one of the best I've ever read. At first I thought this book would be a weird, geeky alien novel with the green men that have bug eyes and huge heads. I've never been more wrong. After I decided I would give the book a shot, I instantly fell in love with the main character, Katy "Kat". Not to mention the dark-haired, emerald green-eyed boy that lived next door. Daemon and Katy's relationship starts up very slowly and painfully, but believe me when I say that it is worth the painfully infuriating wait. Katy has to be one of the most relatable characters I've ever had the privilege to read about. She is also a book nerd with a vlog and that instantly made her my favorite. Lux is Latin for "light" but is also the name of the planet the aliens, Luxen, come from. They have been driven from their home by another different race of evil aliens, known as Arum, and have come to Earth as a refuge. When Katy gets pulled into their world, she immediately becomes a target and is in great danger. I really hope everyone reads these books! They deserve more fans than they have.